Silver Lake Automation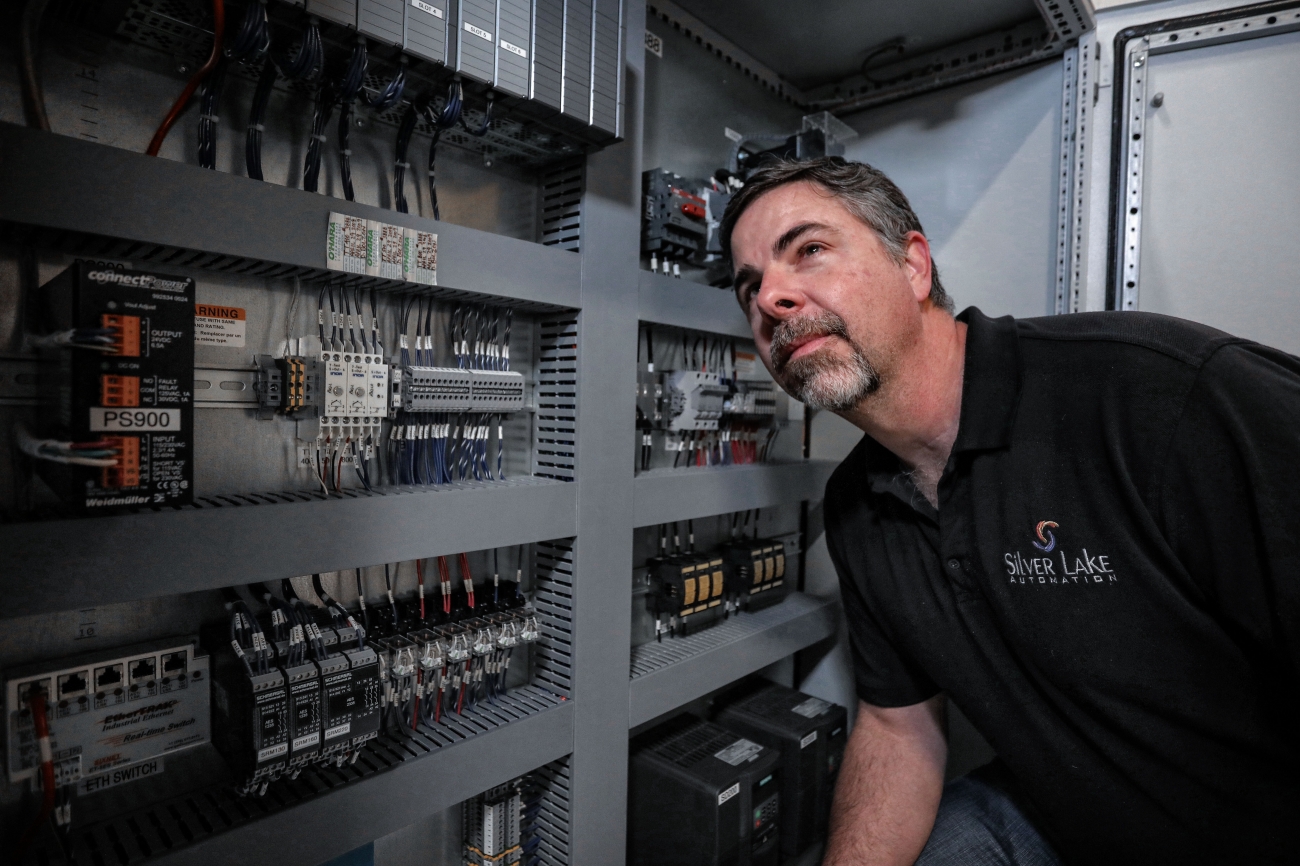 Artificial intelligence is the way of the future, and that future is now at Silver Lake Automation in Effingham County. Rob Lanham founded the company from humble beginnings in 2006, when he decided to go out on his own and began working from his home in Rincon.
In 2006, with over 18 years of extensive corporate experience in systems and controls, Rob was confident that he could be just as successful working for himself as he had been working for others. It was his goal to have a bit more control over his travel schedule so that he could spend more time with his family. For the first 3 months Rob built and repaired control panels for customers in his garage, and quickly realized the need to secure a larger, industrial space to accommodate the growing demand for his products and services.
Rob says that Silver Lake Automation takes designs from napkin to installation, or from concept to completion. "If someone has an idea of how they want to automate their process, we'll take it, we'll help develop it, we'll build it, we'll engineer it, program it and install it," he noted. Rob says they are categorized as a systems integrator which means they take pieces of equipment and integrate them together to make systems that carry out a variety of tasks for their clients. They have also set up partnerships with many clients to continue servicing and troubleshooting systems once they are installed and operational.
Similar to most companies, Silver Lake Automation struggled during the recession of 2008. Rob was able to evolve their service and product offerings to retain their employees during the tough times. Although Silver Lake has business all over the country in a variety of industries, they have been able to expand their market share locally by securing contracts with Georgia Transformer and Ardry Trading, both located in Effingham County. Rob commented that people don't realize how much automation surrounds their lives every day. He said, "Every time you turn on your sink or flush your toilet, there is a significant amount of automation that goes into making that work."
Rob notes that in 2015 the company started to be more strategic about the types of new clients that they pursued, and began focusing more on servicing and integration projects. During this time the company also began seeking out new talent to help make this transition by bringing on interns from the electrical engineering program at Georgia Southern University. Some of those interns have been hired on as full time employees, which has allowed Rob to shift his attention to the future of his company, and the automation industry.
One of the technologies propelling the company into the future is machine learning, commonly referred to as AI or artificial intelligence. Rob says that this technology allows a machine to learn via human interactions and improve the machine's efficiency over time. "Take for example an autonomous forklift that carries boxes from point a to point b," says Rob. "If the layout of the warehouse changes, or something is moved into the path of the forklift, most autonomous forklifts would have to be reprogrammed." This new technology will allow the forklift to learn in real time the new layout, and compute the fastest route between these two points. Rob states that the technology is already out there, and it is the future of Silver Lake Automation, and the future of Effingham County.
"Effingham County is poised for growth like a pebble in a slingshot," says Rob. The availability of industrial sites, pipeline of talent from Georgia Southern Univeristy and Georgia Tech, and forward thinking leadership are what help companies like Silver Lake grow and prosper here. He says, "Real people live in Effingham. People who care about family, who worry about their job, worry about their church, worry about their community, live in Effingham." He continued, "People that you want to work for, people you want to work for live in Effingham. That's why I'm here. That's why my business is here."