Interfor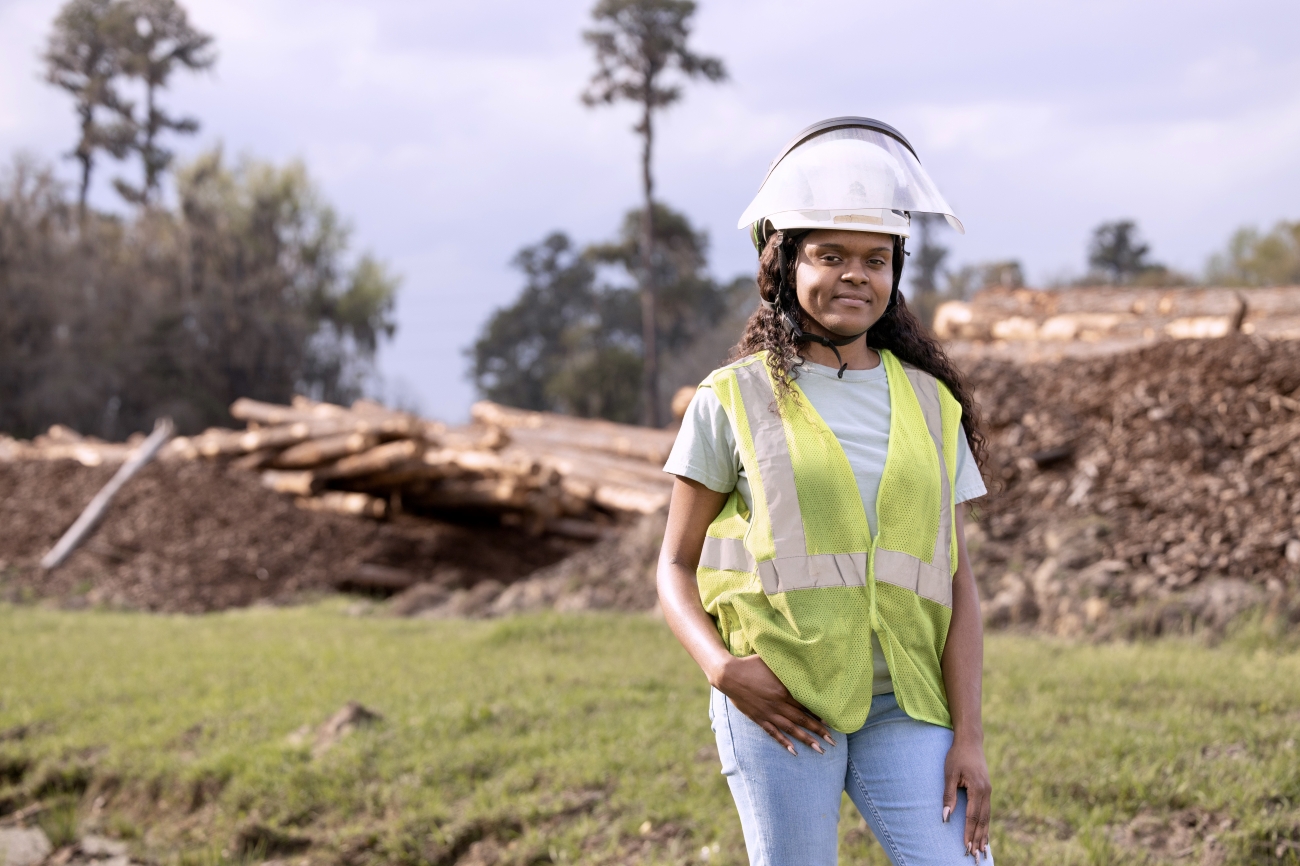 Just off Interstate 16 in southwest Effingham County, the Interfor sawmill processes lumber used in construction projects nationwide and around the world.
Patiance Furman works second shift in the sawmill and operates the sharp chain, a machine that cuts sideboards off from the log after it has been debarked.
A typical day starts at 5:30 p.m. when Patiance clocks in for her shift. At 6 p.m. she and her coworkers go to their respective areas. Everyone cleans equipment and prepares their machines. Once she gets into her booth, Patiance consults a board to confirm that her machine is operating properly. There are several factors she monitors like the trim block, the pulpwood and the waste system. She processes up to 3000 logs per day until her shift ends at 3:30 a.m.
Patiance came to Interfor three years ago seeking a change of career paths. She previously managed a McDonald's for six years, and learned about the opportunities available at Interfor from her cousin who also works for the company.
"He told me how he started off, and he just kept moving up and up. He finally got to where he wanted to be," Patiance says. "And I thought 'Maybe I can work there, too, and do the same thing.'"
Like her cousin, Patiance was able to advance quickly. She started out working on the sorter, which sorts lumber cuts by size and kept learning and progressing to the machine she operates today. She is not intimidated by working in a male-dominated field and encourages other women to pursue the opportunities available in sawmills.
"I feel like anything a man can do, a woman can do," she says. "At first it'll be hard but you'll get used to it. If you need help, ask for help."
She credits the supportive environment at Interfor for helping her learn the skills she needed for success. She, like all Interfor employees, received several weeks of on-the-job training to learn how to operate and stay safe around the equipment, which is part of their six-month onboarding process.
"Patiance is one of the best. She has perfect attendance and pays attention to safety," says Pam Sweeney, HR Generalist at Interfor.
Interfor employs 160 people in the Meldrim division. Many live in Effingham County and others commute from surrounding areas. Approximately 13% of their workforce are women. They are working to increase diversity among their employees by reaching out to people who might not initially consider working in sawmills and lumber processing.
"A person does not need to have any experience in the sawmill industry to come work here. We're looking for a good work ethic," Pam says. "We look for anyone who puts forth an effort in whatever role that they're given and is willing to do whatever is assigned to them."
When someone excels at Interfor, they have many opportunities for advancement. Current employees are given the first opportunity to apply for positions before they are advertised to the public. This gives employees the chance to change shifts or specialize in a different piece of equipment. In fact, some positions are never listed publicly because Interfor promotes so many people from within.
As people enter Interfor's main office, they are greeted by a wall of employees whose tenure with the company ranges from at least five and some upwards of 30 years. Patiance is well on her way to joining their ranks.