Savannah Technical College Foundation celebrates 2022 Tribute to Community STARs
October 28, 2022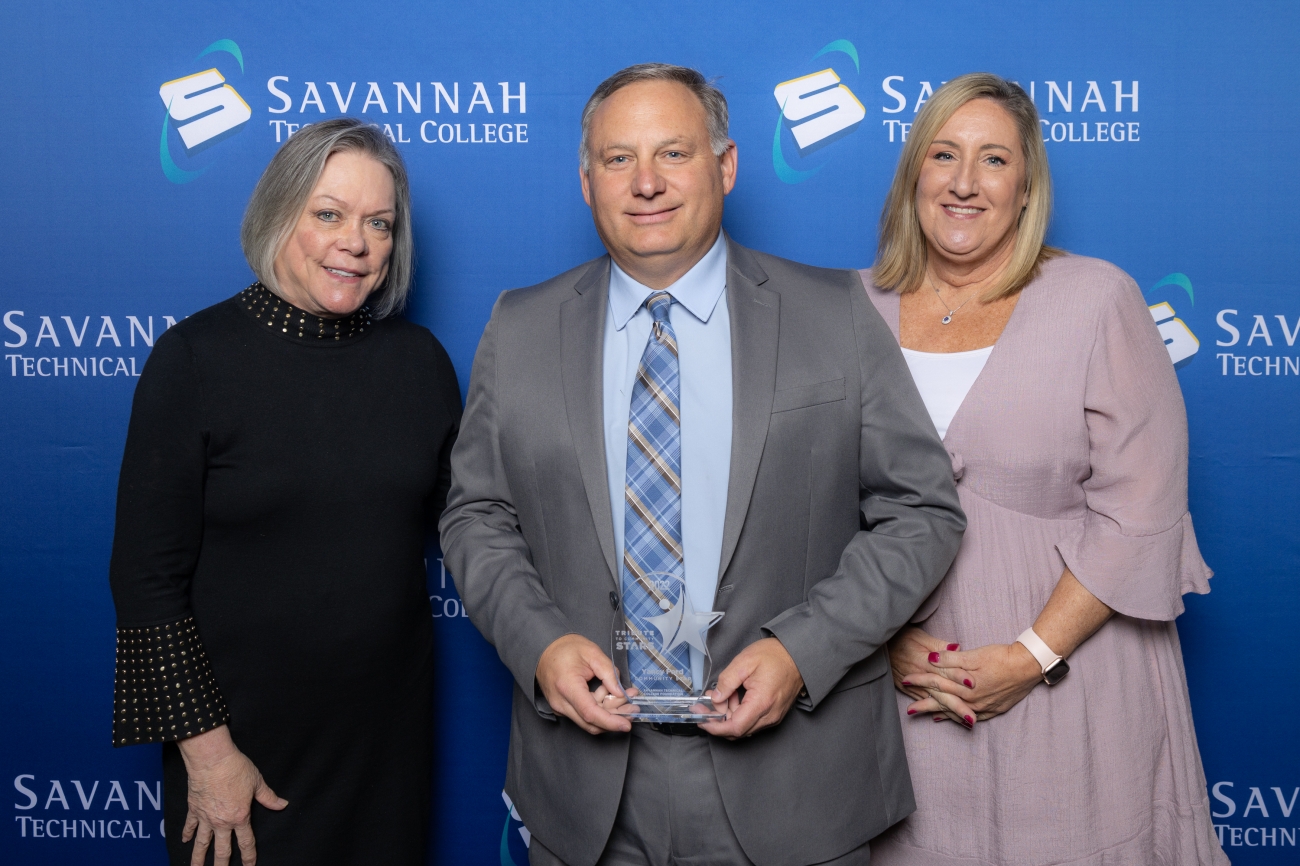 SAVANNAH, Ga. – Savannah Technical College Foundation celebrated 23 community stars on Friday, October 28, 2022, when more than 200 people gathered for its Tribute to Community STARs event. The 16th annual event has recognized 300+ people for their service and dedication in the community or at work.
Executive Chef and Co-Founder of Grey Spaces Mashama Bailey presented the keynote. The low-country brunch was prepared and served by Savannah Culinary Institute students.
Honored were:
Sue Adler, Executive Director, Historic Savannah Foundation, sponsored by The Pinyan Company;
Dan Carter, Director of Product Safety and Compliance, Great Dane sponsored by HunterMaclean;
Miller Castillo, 2022 Savannah Tech GOAL Student of the Year, sponsored by Savannah Technical College;
John Davis, Honored Posthumously, sponsored by John Davis Florist;
Gail Eubanks, Executive Director, Institutional Advancement & Communications, Savannah Technical College, sponsored by Thomas & Hutton;
Katie Fitzhugh, Director of Reconstruction, Re:Purpose Savannah, sponsored by Architecture 101;
Ralph Forbes, VP/Regional Director, Thomas & Hutton, sponsored by Development Authority of Bryan County and Bryan County/Richmond Hill Chamber of Commerce;
Yancy Ford, Superintendent, Effingham County School District, sponsored by Effingham County Industrial Development Authority;
Hermina Glass-Hill, Field Representative, Georgia, Oceana, sponsored by Bertice Berry Productions;
Ben Goldberg, Founder and President, JIT Warehousing and Logistics, sponsored by Sterling Seacrest Pritchard & Savannah Wealth Group;
Cassandra Green, Sr. Director of Patient and Family Services, Hospice Savannah, Inc., sponsored by Hospice Savannah, Inc.;
Kathy Grove, Director of Catering, Leopold's Ice Cream, sponsored by Leopold's Ice Cream;
Jeff Hewitt, Executive VP, Visit Savannah, sponsored by Visit Savannah;
Paul Hinchey, President/CEO, St. Joseph's/Candler Health System, sponsored by Savannah Economic Development Authority;
Pete Hoffman, Civilian Aide to the Secretary of the Army, United States Army, sponsored by Dr. Bill Cathcart and Dr. Julie Olsen;
Justine James, Deconstruction Specialist, Re:Purpose Savannah, sponsored by Shamrock+;
Michael Kaigler, Interim County Manager, Chatham County, sponsored by BankSouth;
Bill Kelso, VP for Mission Advancement, Goodwill of Southeast Georgia, sponsored by Ad Specialty;
David "Fish" Mihuta, Sales Representative and Continuous Improvement Coordinator, Freightliner of Savannah, sponsored by Dorsey Tire Company;
Brandon Robinson, 2022 Savannah Tech Instructor of the Year, sponsored by Ken & Jackie Sirlin;
Michael Solomon, Vice President/Retail Market Leader, Synovus Bank, sponsored by Cecilia Russo Marketing;
Michael White, Rector, Christ Church Savannah, sponsored by Bertice Berry Productions.
The annual event is hosted by the STC Foundation Community Council, a group of young professionals charged with expanding the local knowledge and profile of the College and its mission. The group also raises funds to support the college, its programs and students. Proceeds from the event benefit the Savannah Technical College Foundation.
Founded in 1984, the Savannah Technical College Foundation is a private, nonprofit organization that exists to raise and disburse funds to support the College's efforts to enhance learning, workforce training and economic development in Bryan, Chatham, Effingham and Liberty counties.
###
Savannah Technical College serves Coastal Georgia with quality, market-driven technical education with campus locations in Chatham, Effingham and Liberty Counties. Serving more than 10,000 credit and non-credit students annually, Savannah Tech offers nearly 150 different instructional programs in Aviation Technology, Business and Professional Services, Industrial Technology, and Health Sciences in addition to Adult Education classes, industry-specific training and continuing education. The College serves as an economic and community development partner for the region, offering corporate and customized training and assessment programs for business and industry.